CUSTOM MACHINING OF A LARGE ALUMINUM HUB USING CNC TURNING AND MILLING MACHINES FROM CUSTOMER'S SOLID MODEL DRAWING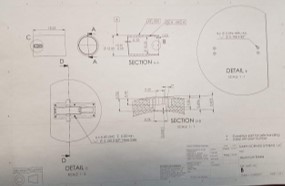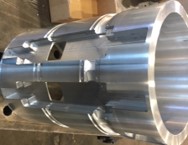 A local Space Component Manufacturer contracted Denver Machine Shop to build a very special hub to extreme high tolerance for use with a part that will one day be used on a communication satellite. Using , 6061 Aluminum the unit was turned one of our state of the art larger CNC Lathes and then it was milled on one of our high precision CNC Mills. A Tight tolerance of ±0.0005″ was held throughout. After polishing the part to a 32 RMS finish, the unit was then anodized for hardness. Turnaround time for this project was rushed to 3 weeks.
The finished dimensions were 14 inches in diameter by 28 inches in length with a wall thickness of 1-1/2 inches. Total weight was 75 lbs. Denver Machine is a reliable source for high quality custom OEM parts, rebuilds, and custom manufacturing. For more about this satellite hub project or our other value added services please see the table below or contact us directly.
HIGHLIGHTS OF THIS CUSTOM MACHINING PROJECT
Product Description
Used for adjusting a plug mill in a steel mill application
Capabilities Applied/Processes

Primary:
Solidworks CAD Engineering/Programming
CNC Turning
CNC Milling
Secondary:
Polishing
Anodized Metal Finish

Equipment Used to Manufacture Part
CNC Lathe 23" x 10′ between Centers, Vertical CNC Mill
Overall Part Dimensions
Product Weight: 120 lbs.
Product Length: 24'' , Diameter: 14″
Tightest Tolerances
± 0.0005″
Material Used
6061 Aluminum
Material Finish
32 RMS
Additional Facts
Extreme tight tolerance required for Space Manufacturing
In process testing/inspection performed
Functionality Testing, CMM dimensional testing
Industry for Use
Space
Volume
1 ea
Delivery/Turnaround Time
3 Weeks
Delivery Location
Colorado
Standards Met
Customer Specifications, 3D CAD Solid Drawing
Product Name
Spoke Hub